LOGIN TO THE BACK-OFFICE OF YOUR WEBSITE
Go to your website's admin login page: wwww.______.myshopify.com/admin
Enter your unique username and password (reset it if you can't remember)
Email us if you have trouble logging in at
ecommerce@mediusa.com
Orders Tab
Go to Orders (Top left Menu)
Search for a past order in the middle where it says "Search Orders"
Use the Order # as a reference if you contact our customer service department. 

The Shopify Order # becomes the PO# on your orders

Pay attention to any orders that say "UNFULFILLED". That means the order hasn't shipped yet. If it has been more than 24 hours since the order was placed, contact our customer service to see why the order hasn't shipped (i.e. back order of an item):

 

orders@mediusa.com
Refunding a Credit Card Payment
1. Login to your website's Admin Back-Office (______.myshopify.com/admin)
2. Go to Orders (top left menu)
3. Search the order by #, patient name, or patient email
4. Click on the order and scroll down past the listed items - click on "REFUND"
5. Select the item that needs to be refunded
6. Check the box to send the patient an email notification of the refund
7. Click confirm to process the refund.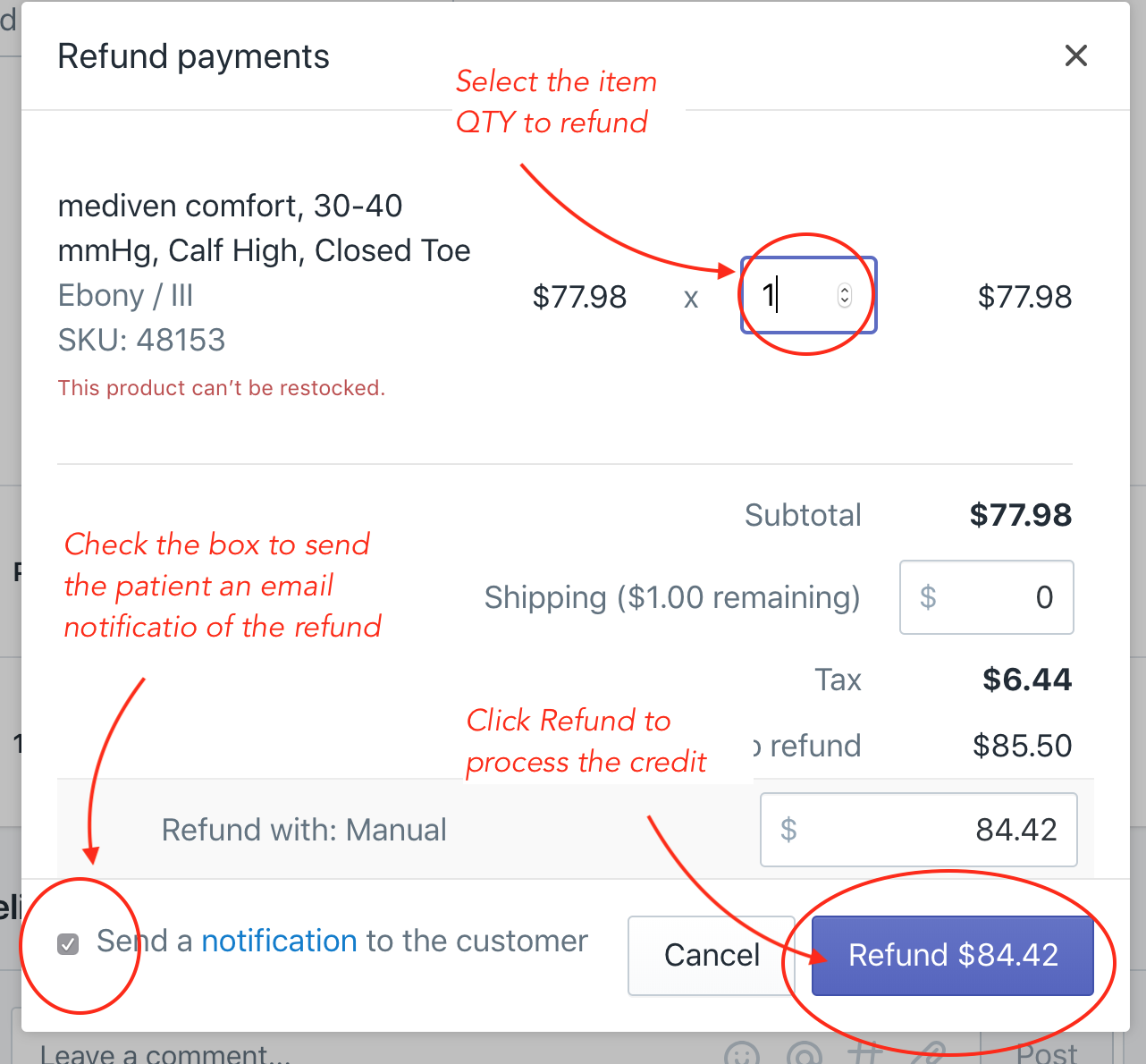 Create an Admin Order
Creating orders on the back-end (admin side) of the website has a few advantages:
Use Case 1:
You can place orders for patients that may want to pay cash, or if you are billing insurance for the patient. In most cases, this isn't possible on the front-end (patient side) of the website because a credit card is required to process the order. 
Use Case 2:
You need to give a special discount for each line item of the order. This can be a set amount of each item on the order or a total discount on the entire order (% off or a $ amount off). Shopify will only accept one discount code at a time on the front-end of the website (unless a special discounting app is installed to do otherwise)
Use Case 3:
Most often you may want to keep a set number of units on hand to cover patient procedures. This will require a bulk order for your inventory (b2b order). This can easily be done by creating an order on the admin side. 
Login to the Admin Dashboard >>>> Go to "ORDERS" >>>> Click on "Create Order" 
2. Add the customer's information (create a new customer if applicable)
3. Search and add the products to the order (item number is ideal)
4. Add any discounts per item or to the entire order
5. Select a shipping rate if the patient needs it faster than Free Ground 
6.  Finalize the order with one of the following methods:
Mark As Paid = patient is paying you cash or by other means in person
Credit Card Payment

 

=

 

enter the patient's credit card for payment
Email Invoice  = customer will complete the order at home when ready
IMPORTANT:
Shopify Payments must be connected to your bank account to receive the proceeds from any credit card payments entered on the website. See this article on how to do that