CREATING THE DISCOUNT CODE
NEED HELP?
You still might need help after reading these instructions. If you need help setting up or marketing your discount codes, please contact us via email: ecommerce@mediusa.com
From the admin dashboard, go to 'DISCOUNTS' on the left menu

Now click on "CREATE DISCOUNT" on the right
Add the discount code that you want to use (can be anything)
Change the discount to a dollar amount or percentage off the purchase from the dropdown menu and add the value in the empty field
Applies To: Leave this set to 'Entire order', unless you want the discount to apply to certain products. 

For example, you can give a discount on the 'mediven comfort' collection only, making the discount apply only to 'mediven comfort' products. 

Minimum Requirement:

 

Leave this set to 'None', unless you require a specific order value or quantity for the discount to be applied. 

For example, you can run a promotion called "Buy any two items and get 30% off". You would select "minimum quantity of items' to set that up.

Customer Eligibility: Leave this set to 'Everyone', unless you want to limit the discount to a specific person or group of people. 

For example, you can set up an 'employee only' discount of 50% off. You would add the employees as customers first, then select them to be included in the discount. (Tip: you would need to add them first in the customer tab)
Usage limits: Select one of these options if you want to limit how many times the discount can be used. 

The first option "Limit number of times can be used total" will put a counter on the discount's usage. Once the limit is hit, the code will stop working.
The second option "Limit to one use per customer" will allow each customer to only use the code once (when they checkout with the same email or phone number)

Active Dates: Select an expiration date by checking the box "Set end date" if you want the code to expire on a certain date. Otherwise, you can leave move on to the final step.
CLICK "SAVE" - your code is now active!
SHARING THE DISCOUNT CODE
The code can be shared and used a few different ways.
Give the code to your patients customers (i.e. on a card or flyer)
Sharing the discount link (i.e. Email or Facebook post)
Add a button on your store that applies the discount (i.e. top banner for holiday sale)
Option 2 above:

 
Sharing the discount code with a hyperlink: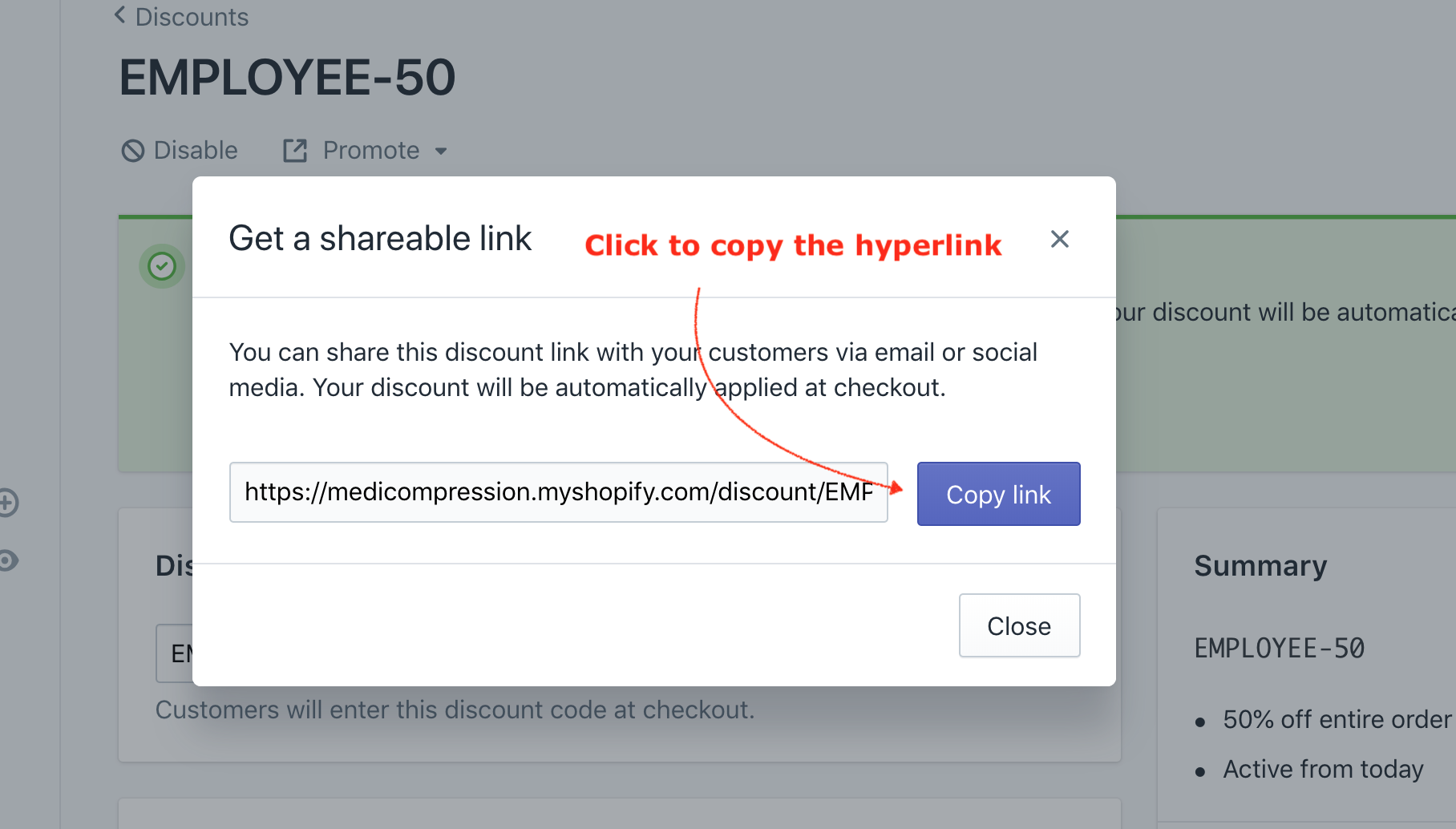 Sharing the discount in an email or on social media:
Use the discount code link to send patients the discount code. When they click on the button or link in your email, it will take them to your website and automatically apply the discount to their cart. When they go to checkout they will see the discount in the subtotal.